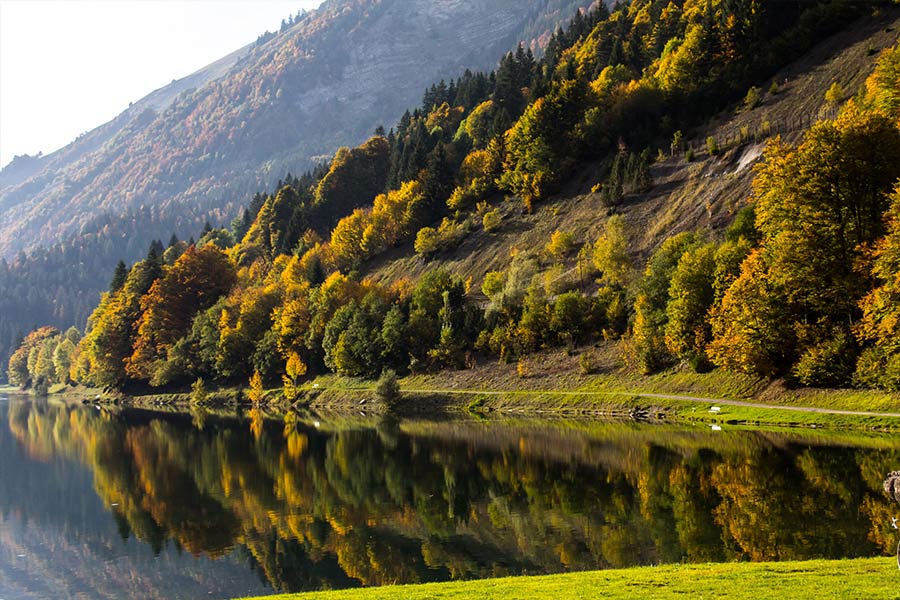 Morzine in the Autumn, the perfect time for a relaxing break.
September, October and November might not be the classic months you'd think to visit a ski town, but we'll let you in on a secret. Morzine in the autumn is BRILLIANT. While the off-season means that the lifts are closed, it doesn't mean everything stops, and during the autumn there's still so much to do, loads of places to visit and great things to see, especially if you love a good hike. In fact, more and more people are choosing to visit Morzine in the Autumn for the laid-back atmosphere and traditional Alpine vibes. Here's why we love it:
Great Weather
Sure, there might be a few rainy or cloudy days, but a sunny day in the autumn is unbeatable; the air is fresh, the skies are clear and the oppressive summer heat is replaced by balmy temperatures that are perfect for outdoor activities. You might even be the first to see a little bit of snow on the mountains.
The Leaves Change
The end of September / beginning of October sees the leaves start to change colour, and it's a true sight to behold. The reds, oranges and yellows of the deciduous trees in the valley blend spectacularly with the evergreen pines and mountain peaks and bring a little extra joy to all your walks, runs and bike rides. You have to see it to really appreciate it.
There's Still Loads to do
Contrary to popular belief, Morzine in the autumn isn't a total ghost town. You'll find plenty of shops, restaurants and bars still open, including all the supermarkets, Cafe Chaud, l'Aubergade, La Chamade, and le Coup de Coeur to name a few. Plus, the market is on every week, the local fromageries are open, and there are plenty more sights to see and things to do during the autumn, all you have to do is look!
It's Laid Back and Quiet
If you want to have a good relax, wander the streets of Morzine, admire the architecture and enjoy some quiet hikes, autumn is the time to visit. There's no pressure to cram in as many activities as possible, no need to make sure you've booked a restaurant and you won't be battling your way to the veg aisle in the supermarket. Plus, popular spots like Lac de Montriond and Parc des Dérèches have way less visitors in the autumn so you're free to enjoy them at your leisure. Or you can just sit on the balcony with a good book – it's totally up to you!
Enjoy Amazing Walks, Runs and Cycles*
The lifts may be closed but if you like running, hiking, mountain biking or road cycling, that doesn't matter. As previously mentioned, Morzine is super calm during the autumn so you can make the most of the quiet trails; go for a pedal, get your hike on, head out for a run or explore the local cols on your road bike. You're guaranteed stunning views and you'll have the mountains all to yourself.
It's Super Cheap
Cheap flights, cheap accommodation, what more could you ask for? Autumn in the Alps is a shoestring traveller's dream. Most activities you can do for free, especially if you have your own equipment, and then all you need to pay for is food. And you're in France so cheap but tasty wine is always readily available!
If you fancy a quick trip to the Alps this autumn, we run private transfers from Geneva to Morzine, Avoriaz, Les Gets and the surrounding areas. Give us a call or drop us an email to book. Don't forget, if you're visiting Morzine, Avoriaz or Les Gets this winter, we're getting booked up fast! Book your winter transfers online, over the phone or via email.
*Please note, autumn is hunting season in the Haute Savoie, so if you're out and about in the mountains make sure you know when and where hunting will take place using the app Chasseco. If hunters are likely to be around, make sure you're wearing bright colours, and can be easily seen and heard.