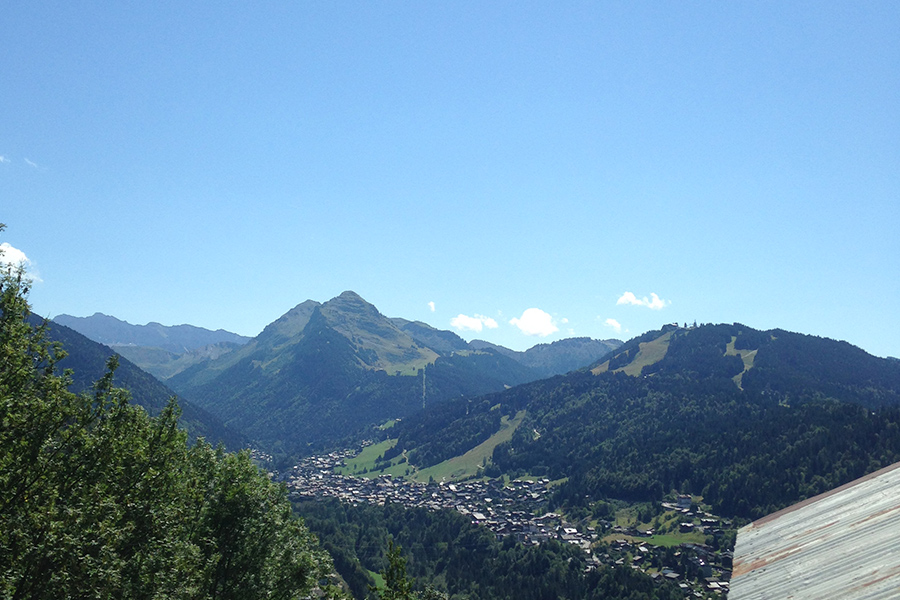 When you think about Morzine, Avoriaz or Les Gets in summer, it can be hard to imagine what it's like without snow on the mountains and ambling, ski-boot-clad winter visitors making their way to and from the slopes (or the bars!). But while winter is usually the season that brings people to the mountains, it's the summer in Morzine is what really hooks you in. And here are our top five reasons why.
It's beautiful
If you thought the mountains looked stunning covered in snow, just wait until you see them covered with lush green grass and meadows of wild flowers. Whether you're heading out on your bike, for a walk by the river or a stroll around town, there's gorgeousness everywhere you look. Unlike many larger and higher ski resorts, Morzine is a traditional Alpine farming town, which means the architecture is rustic and the mountains are green and vibrant. And even better, you're never too far away from a BBQ.
Top Tip: Depending on whether or not you like the sound of Harley Davidsons, we recommend you either book your accommodation early or totally avoid Morzine over the weekend of the 11th July!
World class mountain biking
Morzine is a mecca for mountain biking, whether you're into downhill, enduro or cross country. From the town centre you can access a massive range of downhill tracks across Morzine, Avoriaz and Les Gets, while for those wanting to explore, you're in the heart of les Portes du Soleil. The possibilities are endless. We're pretty sure you could go out every day and find new trails and resorts to explore. Even if you've never sat on a mountain bike before, it's an amazing way to get up into the mountains, and with trails ranging from mellow green runs though the pastures to rooty, rocky airlines through the forest, there really is something for everyone. We're not just saying that!
Top Tip: Look out for the UCI Mountain Bike World Cup coming through Les Gets in July, and Pass'Portes du Soleil at the end of June.
The hikes
Hiking in les Portes du Soleil is amazing, and again, there's something for everyone. From summit scrambles to family-friendly strolls, there's something for even the most seasoned hikers to enjoy. And you can use the lift network as much or as little as you like. Les Portes du Soleil has a multitude of beautiful lakes, countless peaks and an amazing selection of mountain refuges to hike to. And mountain refuges mean tasty Savoyard food, wine the opportunity to stay overnight and get away from it all.
Top Tip: There are loads of great hikes you can do from the town centre, meaning you don't have to use a car, including the Pointe de Nyon and Pointe de Ressachaux.
Road Cycling
From the beginning of spring the roads fill up with cyclists, and Morzine in summer brings beautiful cols with amazing views and stunning descents. The capacity to explore is second to none. Road cycling has exploded in Morzine during the past few years, with holiday companies offering specialised road biking holidays, even triathlon training weeks if that's what takes your fancy. Offering everything from gruelling climbs to, well, less gruelling climbs, road biking in Morzine is an activity not to be missed.
Top Tip: If big climbs aren't your thing, why not look into renting an e-bike?
All the other stuff
Rafting, hydrospeeding, canyoning, swimming, tennis, trail running, spa treatments, paddle boarding, escape room, loads of events… the list of daily activities on offer in and around Morzine in summer is massive – far bigger than in the winter. And that's on top of hiking and biking. And whether you want to do something relaxing or adrenaline fuelled, we can guarantee there's something to suit you, and the weather!
Top Tip: If you're not biking you can buy a Portes du Soleil Multi Pass, which gives you pedestrian access to the lifts, buses, swimming pools, tennis courts, swimming lakes and attractions throughout the area for only €2 per day if you're staying in Multi Pass accredited accommodation. Find out more HERE.
And there you have it. Morzine in summer well and truly offers something for everyone. Beautiful weather, lots of activities, breathtaking views from all angles and don't even get us started on the incredible events!
If you're looking for transport between Morzine, Les Gets or Avoriaz and Geneva Airport we offer private transfers throughout the summer season and shared transfers for groups of four and over – get in touch to book. Let us know if you're bringing your bikes and we'll bring a trailer for no extra cost! If you're less than four people looking for a shared transfer, give us a call or drop us an email and we'll do our best to fit you in. See you in the summer!