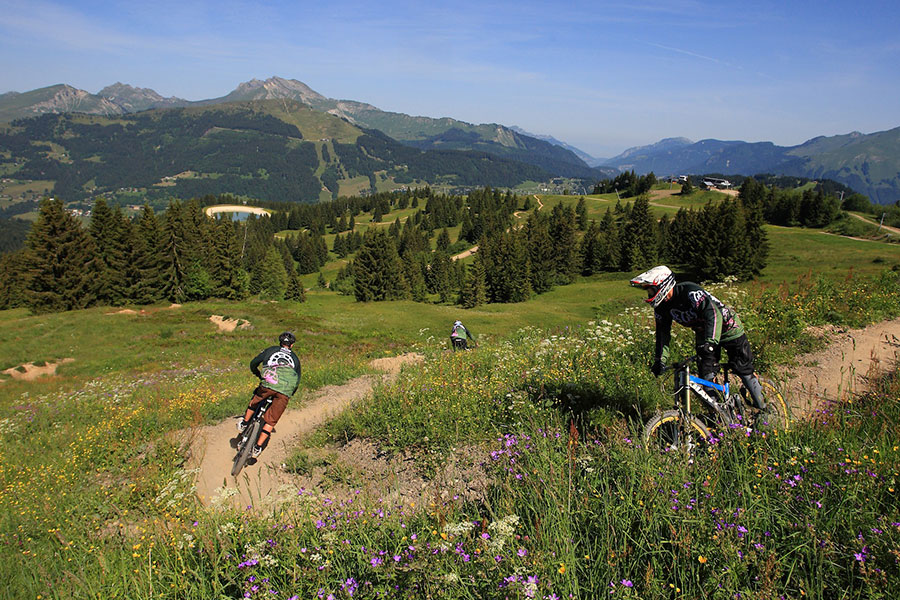 We're pretty excited here at Getaway Vans as the mountain biking season in Morzine, Les Gets and les Portes du Soleil is getting underway! Mountain biking in Morzine is huge and thousands of bikers flock to les Portes du Soleil every summer to make the most of the trails. Wherever you're mountain biking in les Portes du Soleil, there's something for everyone, but the area is so big sometimes it can be pretty hard to work out where to ride, especially if it's your first time. But don't worry, here's our handy guide on where to go and what to do.
Les Gets: Best for families and beginners
One of the mountain biking hotspots of les Portes du Soleil, Les Gets is a truly family friendly resort that offers plenty of awesome kid-friendly trails, and a child-friendly jump park. Plus, wherever you are in Les Gets, you're never too far from town, whether you're exploring the forest trails on Mont Chery or riding the green and blue trails on Chavannes, so you'll never be too stuck if your kids get tired. Kids will also love the pump tracks – there's a dirt one just below the jump park and a wooden one in the town centre. Les Gets also has a great range of green and blue trails that are perfect for getting started if it's your first time; they're not too steep or too long so they're the perfect starting point.
Super Morzine: Best for intermediates
Over on Super Morzine (which is actually part of the Avoriaz mountain biking area) you'll find a progressive mix of trails, from smooth green runs through the pastures to rooty black trails through the forest. If you're not mega confident but you want to progress your riding, here you've got all the trails to do it in one place. Plus, there's jumps! From small tabletops and gaps to the massive Big Bertha, there's something for everyone who wants to get some air time, particularly if you're learning and want to build up to bigger and bigger jumps. If you're riding in a group with a big mix of abilities, this is the place to go.
Morzine: Best for going fast in the forest
Home to the infamous Pleney Mainline, Morzine isn't best known for its family friendly trails, but it really delivers for anyone who wants to ride fast, varied and long tracks. All the trails in Morzine cut through the dense Pleney forest, so you won't find the same windy tracks that you will in Les Gets or on Super Morzine, you'll find a great selection of fast and flowy trails with lots of technical single track options. Plus, thanks to all the trails being in one small-ish area and finishing in the centre of Morzine, it's the perfect place to ride if you only have a couple of hours. And if you're not feeling super confident and want somewhere quiet to hone you skills, the Pleney has two bue trails that are perfect for practicing.
Châtel: Best for advanced riders who want to send it
While Châtel has some lovely green and blue trails, it's best-known for its technical northshore, river gap and big drops, so if you want to go all out this is your bike park. All those features make for great filming and photo opportunities, too. But don't worry, if you're in a mixed ability group, there's something to keep everyone happy.
Avoriaz: Best for Cross Country and E-biking
The Lindarets bowl up in Avoriaz is great for cross country as it's bang in the middle of the PDS bike area, and you can either use the lifts, your leg power or both to explore the surrounding resorts. Easy (and fun) to get to from Morzine and Les Gets, you've got plenty of options from Avoriaz, whether you want to stop in Lindarets or the goat village for lunch, carry on down to Lac de Montriond or head further afield.
Avoriaz is also a great resort for e-bikers, and is home to ten of les Portes du Soleil's 40 specific e-bike routes. You'll find e-bike chargers at the Avoriaz tourist office and dotted around the resort, so you never need to worry about running out of charge. Just get on your bike and see where the trails take you!
Champéry-Morgins: Best for World Cup Goodness
Champéry's World Cup track may be legendary, but it's not for the faint of heart! Packed with rocks, roots, steeps and fast sections, it's a real must-ride trail for keen downhill riders and is one of the highlights of mountain biking in les Portes du Soleil. As a whole, Champéry-Morgins is more suited to experienced riders, so it's worth building your skills and confidence before you head over for the day! It's also the furthest bike park from Morzine and Les Gets, so make sure you give yourself plenty of time to get there and back.
Samoëns: Best for an Away Day
If you must go somewhere else… Samoëns is the place to do it! Expect long, quiet trails with a natural feel. Samoëns has previously hosted Enduro World Series races so it's perfect for long exploratory rides that involve a bit of pedalling. We can happily provide transport for you and your bikes if you fancy an away day, get in touch for a quote.
And there you have it! If you're stoked for a bit of mountain biking in les Portes du Soleil, get some flights booked and come on out. We offer shared and private transfers throughout the summer and we'll transport your bikes at no extra cost. Plus, if you book your transfers before the end of June you'll get 10% OFF! Just use the code WOOSUMMER when you book online*, over the phone or by email.
*We can only accept shared transfer online bookings of four people or more. If you're looking for a shared transfer for less than four people please give us a call or drop us an email to check availability.
Featured image: E Perdu / Les Gets Office de Tourisme