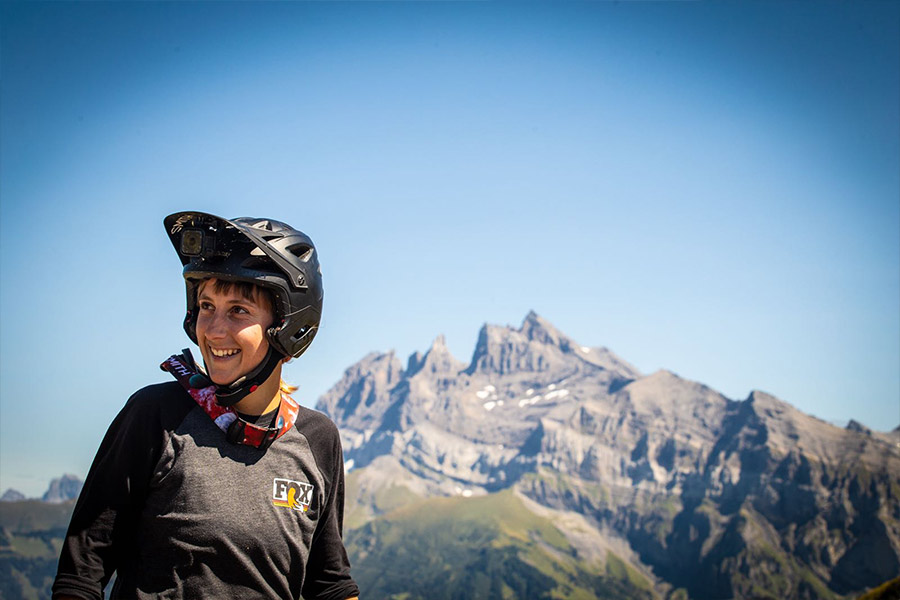 Ever wondered what our drivers do in the summer? Some of them jet off to sunnier climes, some return to their home countries to work for the summer, and some stay right here to enjoy the summer in Morzine. One such Getaway Driver is Sandra Börner, who is a qualified mountain bike guide.
 Originally from Germany, Sandra spends the summer in Morzine, driving and mountain bike guiding for MTB Beds. In the off-season she works as a mountain bike guide in Italian mountain biking paradise, Finale Ligure. We caught up with her to find out all about it.
Hey Sandra! Give us a quick run-down of what your summer looks like?
During the summer I'm a driver and guide for MTB Beds. The guests can book day trips to other resorts like Pila, la Thuile or Samöens. I can guide them in Italy because of my Italian guiding qualifications but sadly not in France. In spring and autumn I stay in Finale Ligure in Italy where I work for Ride On Noli.
How did you end up in Morzine?
I came to Morzine just for some rad weeks last summer and I loved it so I decided to come back! This is my first winter season. You can ride in Finale the whole year around, but in winter there is not that much work so when a good friend asked me if I wanted to work for Getaway Vans I spontaneously said yes 🙂
How did you get into mountain biking?
Oh, that's some years ago, when I was 13 and a mountain biking club opened in my hometown – so it is 17 years ago now!
And how did that turn into you becoming a guide?
I wasn't happy with my job as a kindergarten teacher so I said to myself, I have to change something. I love riding my bike, Finale is a mountain bike paradise and I had the option to start there as a guide – so I did!
How hard is it to become a guide?
In Finale it's quite easy because MTB guide doesn't exist as an official job as in this region. So anyone could be a guide. To be an official guide with the Italian Federation you have to do two courses and two exams. Compared to the French one I think it's quite easy! As far as I know in France it's a long and hard journey to become an official mountain bike guide.
You work in a very male-dominated industry – have you seen mountain biking change for women since you started?
Definitely. I see more and more women who ride. There are more female products and bikes now, too (although if this is what women want or not is another discussion!). Sadly, there is a bit of a 'sex sells' aspect on some MTB social media channels, which in my opinion isn't the right direction.
What's your favourite thing about mountain biking in Morzine?
Oh there is a lot!! The tracks are amazing and there are so many different ones!
Which do you prefer, Finale or Morzine? And why?
Ohhhhh that's a hard question!! I think I like them both the same, they are just super different. In Italy there is the sea, the natural tracks and for sure the aperitivo (you buy a beer after riding and you get some good free snacks). In Morzine there are a lot of jumps, mountains and better parties!
And as a guide, do you have any tips for first-time mountain bikers coming to Morzine this summer?
Morzine is good to start with. There are a lot of easy tracks. If you've never sat on a mountain bike, probably book a guide / MTB instructor for the first day to get you started.
If you fancy a bit of biking over the summer in Morzine give us a call or drop us an email to find out about our transport options for you and your bikes!