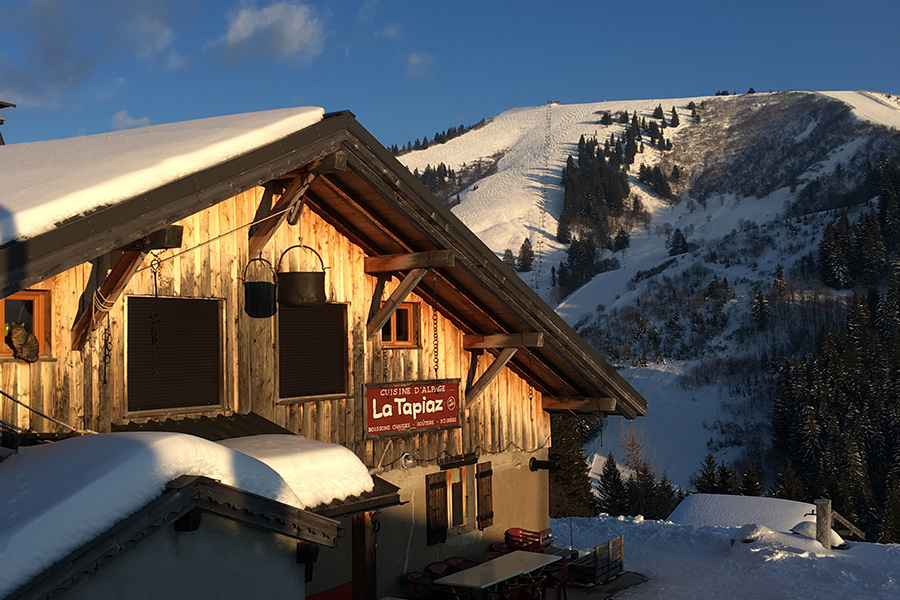 One of the best things about going on a ski or snowboard holiday to Morzine, Avoriaz and Les Gets is all the fantastic grub you get to enjoy. Whether it's takeaway pizza, chalet dinners with bottomless wine or a traditional fondue in a Savoyard restaurant, there's something for everyone. But if you've only got a week or a few days, discovering the best restaurants in Morzine, Avoriaz and Les Gets can be a tough challenge! Good thing that here at Getaway Vans, we love our food. So here are our recommendations of the best restaurants in Morzine and beyond.
For something a bit different:
The Crapahute – Morzine
One of the best restaurants in Morzine for an ourside-the-box meal, the Crapahute is just a short snowshoe or ski tour up the cross country ski trails at the end of Vallée de la Manche. A small and cosy cabin that serves up top notch fondues and epic views it's perfect for a dinner with a difference. And the host, Mark, is a riot. You can even combine your evening with a quick ski tour or splitboard up to Lac Mines d'Or or Col de Golese, some of the area's most popular ski touring routes, and book a table for the way back. A great way to spend an evening if you're a big group, you'll get to enjoy some traditional food in an intimate setting where you can really enjoy the beauty of the mountains.
You can get to the Crapahute by bus during the day – and it's easy to organise a cab back to you accommodation after. We run a late-night cab service from Sunday – Friday and prices from the Crapahute start from just €20. The Crapahute is open from 9am until 5pm daily and will open in the evening for groups of ten or over – make sure you book in advance on +33 6 68 26 61 89.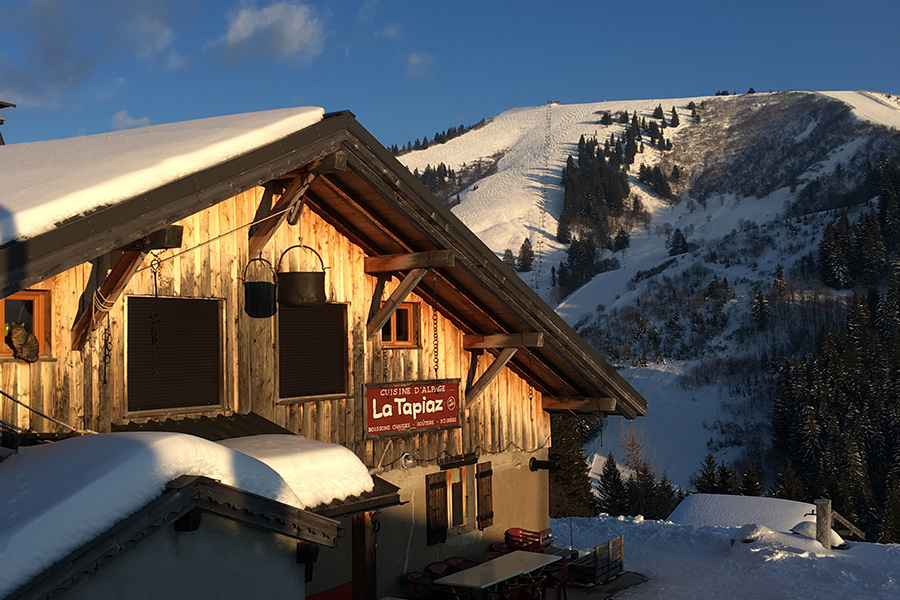 La Tapiaz – Les Gets
In a similar vein to the Crapahute, La Tapiaz is a short snowshoe or ski tour from the car park at the top of the Col de l'Encranaz at the back side of the Mont Chery ski area. With its log fire, cosy interior and simple, seasonal Savoyard menu, it's a great place to enjoy a few glasses of wine and a traditional meal. The food is plentiful (and delicious), the atmosphere is friendly and the views are incredible. There's even the option to do a quick ski tour or snowshoe up the Col de Ratti before dinner where you can catch an incredible view of Mont Blanc. The owners, Claude and Veronique are lovely, and Claude is an excellent guitar player for anyone who loves spending an evening singing their heart out!
You can access La Tapiaz on skis during the day, just ski to the car park at the back side of Mont Chery and walk / ski tour up the track behind the l'Ancranaz Bar. La Tapiaz is open throughout the day and opens in the evenings for groups of eight or more (although smaller groups can be taken if you're flexible on dates!). If you give us a call beforehand, we'll arrange a Getaway cab to come and pick you up! Prices start from €25.
Village Igloo – Avoriaz
Enjoy a night out with a difference in Avoriaz – spend an evening in a giant igloo! Avoriaz's infamous 'ice bar', Village Igloo, puts on a fondue night every Wednesday and Saturday. When you book a table you'll be met in Avoriaz by Village Igloo staff and escorted up to the restaurant, which is located on the pistes above the Prodains gondola. You'll then spend a few hours, drinking wine, eating fondue and wandering around the igloo, admiring the ice sculptures that cover the walls. Just remember to wear warm clothes!
If you're not already in Avoriaz you can get there in the evenings via the Prodains gondola. It runs until 9pm on weekdays, midnight on Fridays and Saturdays and 10pm on Sundays. If you're in Morzine you can take the bus to and from Prodains until 9pm. After that, call a Getaway cab! Prices to Prodains start from €20 and Avoriaz drop-off point from €50.
For a classic dining experience: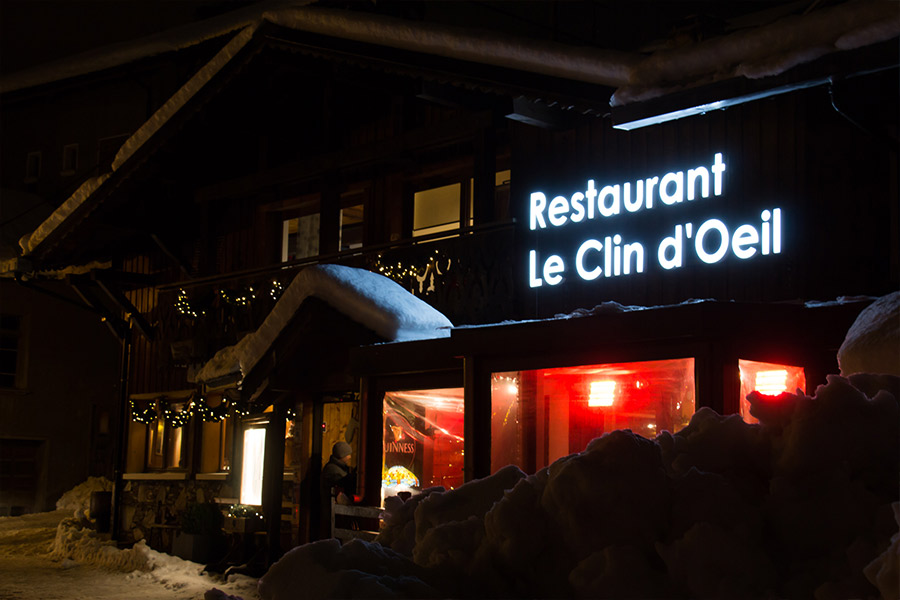 Le Clin d'Oiel
In our opinion, one of the best restaurants in Morzinr is the Clin d'Oeil. Perfect for a special dinner out, it's one of the only places in Morzine you can enjoy a beef fondue, and the small but mighty menu is made up of traditional specialities and southwestern French delicacies (not a pizza in sight). If you like duck this is the place to be. And they also do an excellent café gourmand.
La Biskatcha
Bang in the centre of Les Gets, La Biskatcha is one of the restaurants at the four-star Hotel la Marmotte. It has a relaxed and friendly atmosphere and serves up an exceptional menu of local specialities, grilled meats and exotic extras, all cooked on an authentic wood-fired barbecue – and we have to say it's delicious! The adjoining tapas bar, l'Anka is also great for pre-dinner drinks.
La Fruitière at La Folie Douce Avoriaz
While it may be better known for wild champagne-fuelled après parties, one of the unique aspects of the Avoriaz Folie Douce is that its fine dining restaurant, La Fruitière, is open in the evenings. That means you can go and enjoy a high quality dinner outside the festivities of après ski, in a lovely peaceful setting next to the pistes. The menu is varied but includes lots of tasty local delicacies, like a cheese plate from the la Ferme de Seraussaix in Avoriaz, and breaded reblochon.
If you're vegetarian / vegan / gluten free…
Head to Morzine microbrasserie le Bec Jaune. All the beers are brewed sur place, and the majority of the menu is vegetarian, not just one or two things. Everything on the menu is also locally sourced and organic where possible, and the beers are made using organic malt. Make sure you book a table because it's likely to be busy!
If you're staying in Les Gets you can enjoy delicious vegan, vegetarian and gluten-free breakfasts, lunches and cakes at Wild Beets Kitchen.
And there you have it – our pick of the best restaurants in Morzine, Avoriaz and Les Gets. If you need an extra hand getting to any of the above restaurants, call a Getaway cab. We run a pre-booked cab service Sunday – Friday from 6pm until 2am. Call ­+33 (0) 6 41 37 28 89 to get booked in! We can transport 8 people at a time (unless a special group booking is arranged in advance) and prices start from just €15.