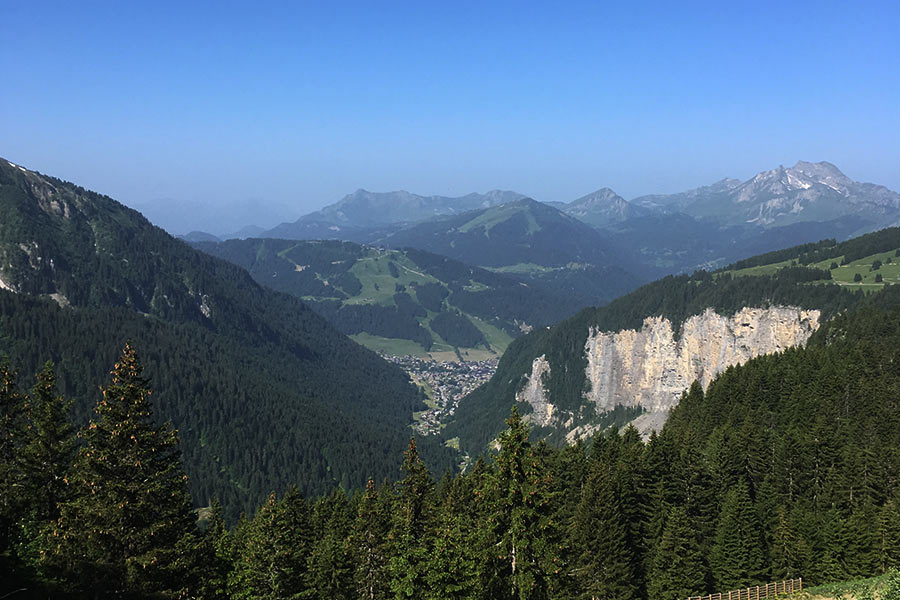 Our top Five Things to do on Your Family Holiday in Morzine, Avoriaz and Les Gets this Summer
August is the month of the family holiday, and in Morzine, Avoriaz and Les Gets it's no different. If you hail from the UK the stereotypical family holiday usually involves a beach in the Med, lots of books and hefty amounts of sun cream, but we reckon a family trip to the mountains in the summer months can beat the beach ten times over. Especially if you like doing stuff. We've said it before and no doubt we'll say it again; the Alps offer something for everyone in the summer, and we're not just saying that. From kicking back and relaxing at the pool, to lowering yourself down mountain waterfalls, here are top picks for a summer family holiday in Morzine, Avoriaz and Les Gets.
Lakes
Lac de Montriond is the perfect spot for a family day out. Activity options include relaxing by the lake, swimming, hiring stand up paddle boards or kayaks, pony rides or hiking to some of the nearby viewpoints. You can take a picnic or have lunch at one of the lakeside restaurants and that's your day, sorted! There are even public barbecues for you to cook on – just make sure you bring coals and come utensils.
If you have younger kids the perfect place to take them is Lac des Ecoles in Les Gets. This supervised lake has a nice shallow area for paddling, it's easy to access by bus, by car or on foot and there's some mega fun stuff to do while you're there. Yup, this lake has a water slide, but the very best part is the Wibit Aqua Park, a giant inflatable obstacle course for kids of all ages (and adults, of course) that'll provide hours of fun.
Mountain Biking
Mountain biking doesn't just have to be an activity for the grown-ups, it's great fun for kids as well, and you can go as hard or as easy as you like. From riding along the river in Morzine to giving the downhill trails a try, there's something for the entire family to enjoy. There's also a massive range of bike schools in the area so you can send your kids off for a few hours to learn with a pro and know they're in safe hands. Plus, if it's your first time riding bikes as a family, don't underestimate the range of rental options; from e-bikes to downhill bikes, there's something for everyone to enjoy.
Les Gets is a great resort for family friendly mountain biking, offering lots of family friendly downhill trails and great cross country riding – check out Les Gets Bike School for guiding and lessons.
Swimming Pools
If you want to take a day to relax, the Morzine swimming complex is the place to do it. With both an indoor and outdoor pool, a water slide, paddling pool, volleyball court and wellness area, it's got so much to do you'll easily be able to spend the day there without anyone getting bored. Plus the views from the outdoor pool are pretty special.
If you're up in Avoriaz, Aquariaz is a great option, especially if it's raining. This jungle-themed aquatic gem is packed with plants and fun stuff to do for kids and adults alike, from the lazy river to the climbing wall to the half-pipe waterslide.
River-based Fun
Another great activity for a rainy day, rafting is great fun and it's something you can do together as a family (although generally kids must be over eight to go). There's no better way to experience a good Alpine river than to get in an inflatable boat and float down one, and la Dranse that travels from Morzine down to Lac Leman always provides an excellent rafting experience. Rapids, stops to jump off rocks, and time to play in the water, it's got it all. You'll be with a guide the entire time to make sure you stay safe, see all the amazing rock formations and have maximum fun.
If you're a family of adrenaline seekers, you might also find canyoning fun. Canyoning is perfect for thrill-seeking kids over twelve and the basic premise is that you navigate rockier sections of the river by jumping into pools, lowering yourself off waterfalls and sliding down rock faces. It's REALLY fun, and you get to see parts of the mountain you'd never normally get to look at, although if you don't like heights it's probably best left to the more adventurous members of the family!
Some great local rafting and canyoning companies include Frogs, AN Rafting and 7Aventures – and if need a ride, let us know and we'll drive you there and back.
Spend the Night in a Refuge
A great way to experience local culture, food and views all rolled into one exciting evening; spending a night in a mountain refuge is an unforgettable family activity. Morzine, Les Gets and Avoriaz are surrounded by hosted refuges and a lot of them are surprisingly easy to access on foot. The perfect way to make the most of the long evenings, you hike to your chosen refuge, the hosts will serve you a simple but traditional Savoyard dinner and then you'll spend the night in dormitory-style bedrooms with the other refuge guests. When you wake up, you can enjoy a hearty breakfast before leaving on your day's adventures. While it might take you a little bit out of your comfort zone, a night in a refuge allows you to get away from the distractions of daily life in the heart of the mountains, which is exactly what holidays are for, right?
Top tip: Make sure you book. Refuges get busy in the summer months! Check out Haute Savoie Tourisme for a list of refuges to visit.
Go on a Day Trip
Did you know that Morzine, Avoriaz and Les Gets are less than two hours away from lots of other exciting towns and attractions, like Chamonix, Annecy, Evian, TNA Wakeboard Park and the Swiss Vapeur Park? While it's great to make the most of where you are when you're on holiday, it's hard to pass up the opportunity to see some of these iconic destinations and enjoy them with your family. Going up the Aiguille de Midi, exploring Annecy's Old Town, swimming in Lac Leman… there are so many things to do and see you'll be spoilt for choice.
If you're in Morzine, Avoriaz or Les Gets without a car and you want to head out for the day, we'll drive you! Get in touch for a bespoke quote.
As well as providing shared and private transfers from Geneva Airport to Morzine, Avoriaz and Les Gets in the summer, we also do day trips by request. Book your transfers online or view a quote HERE, and get in touch via phone or email if you'd like do go on a day trip. Bonnes vacances!