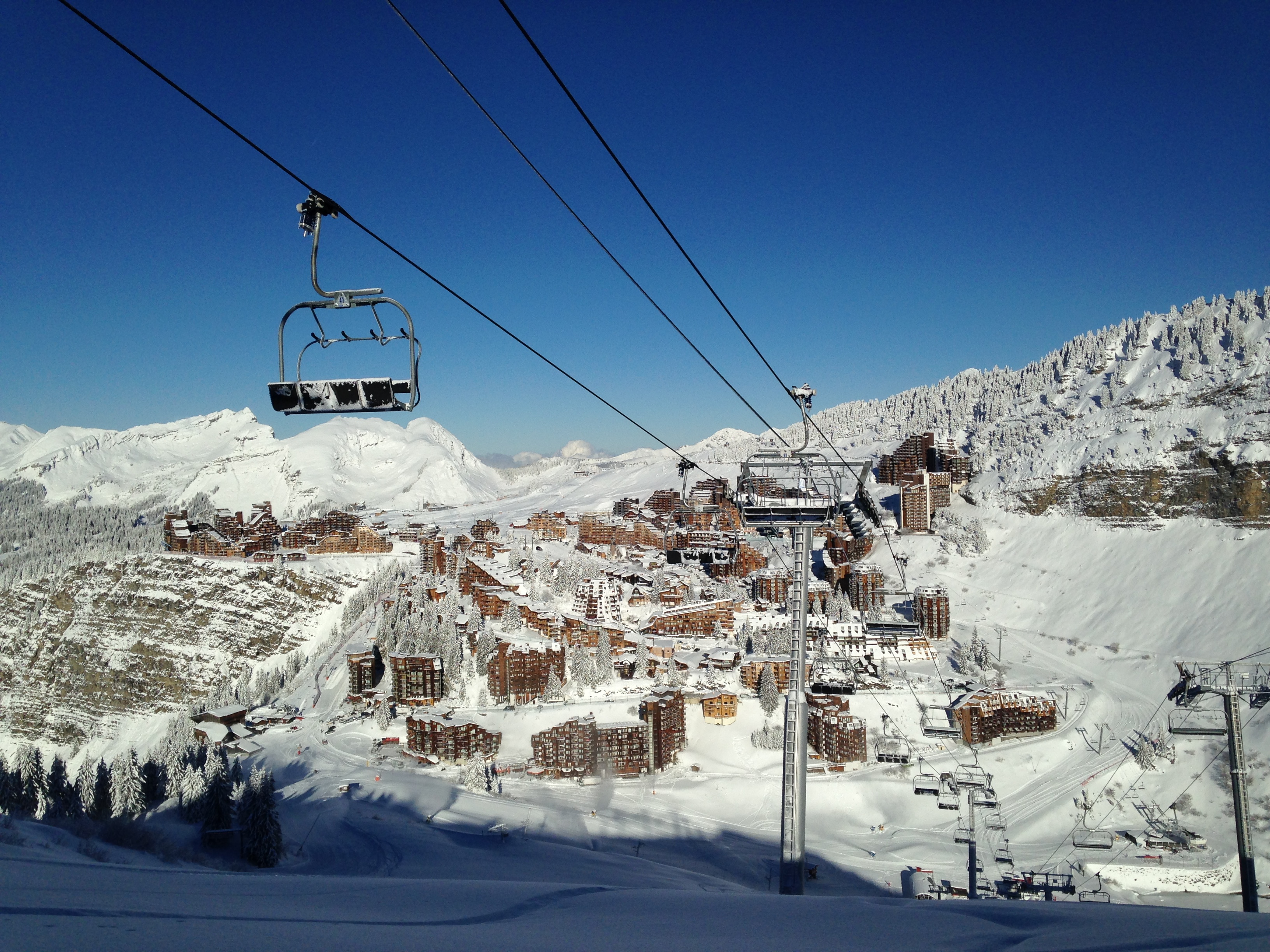 The February half-term is generally considered THE time for a family ski trip – but it doesn't have to be. In fact,

Avoriaz

is one of the best family ski resorts to visit in the spring. February may be the most snow-sure time for a family ski holiday, but you're having to share that time with thousands of other families, which hikes up the cost of your accommodation, your flights… not to mention the fact that the pistes are crowded and you have to book your ski lessons months, if not a whole year, in advance! So here are our top reasons why Avoriaz is among the best family ski resorts to visit in the spring.
It's Quiet
Quiet, slushy pistes and warm, sunny weather are some of the best things about spring in Avoriaz. While it's a slightly different experience to mid-winter skiing, the beautiful weather and uncrowded slopes are great for families. Less hot chocolate stops, more skiing! You'll also find the resort towns are quieter at this time of year, which gives you a bit more flexibility with your dinner plans.
It's Cheap
Yep, Avoriaz is one of the best family ski resorts because you can find cheap accommodation whatever the season, but in the spring you'll be able to find some particularly good deals, especially in April. Same goes with flights. And who doesn't like to get more for their money? As an added bonus, les Portes du Soleil offers a special deal where kids under twelve ski for free in April – find out more here.
The Snow is still Good
While the snow may be melting in some of les Portes du Soleil's lower resorts when spring comes, Avoriaz is the highest resort in the ski area and has a great record of staying snow-sure up until the end. It even benefits from April showers, which might mean rain in some lower down resorts, but in Avoriaz it usually means snow! It's a nice little top up for the end of the season, but even if it's not snowing, it's great to be able to make the most of all the sun and warm weather. It's not called les Portes du Soleil for nothing! Avoriaz also has a range of snow parks that are great for kids, especially the 'Lil Stash, which has a treetop play area with free barbecues. Endless fun for adults and kids.
There's loads to do
What really makes Avoriaz one of the best family ski resorts in spring is that you'll benefit from a massive range of activities. Whether you're staying down in Morzine or up in Avoriaz, there's something for everyone, especially families. While it may still be snowy in Avoriaz, in Morzine the snow all tends to have melted by mid-March (well, in town anyway!), which means you can make the most of the outdoor spaces and beautiful spring weather. Up in Avoriaz there's plenty to do, like go to Aquariaz, the swimming complex, visit the local dairy farm, la Ferme de Seraussaix, or go snow-shoeing. There are also lots of great events on throughout the spring months, including of ski races, music festivals and new for this year, the Spring Xperience in Avoriaz.
Everyone's in a Good Mood
In February, everyone is stressed out because it's busy, they're working too much or they've paid a lot to go on a family holiday and they just want everyone to have fun. Christmas runs the risk of no snow and which makes for extra stress. But in the spring everyone is in a good mood. It's warm, it's sunny, the days are longer, the pistes are empty and you'll never turn up late for ski school because the bus was too full to let you on. Everyone is looking forward to summer, enjoying lunch on terraces and even the odd barbecue. It's amazing the difference a bit of sun makes to everyone's mood!
Hassle-free Ski Transfers
Ski transfers are the same price all year round – but availability, airport congestion and even journey times can change during the Christmas and February school holidays when there are more people travelling to resort. And no-one likes being stuck in traffic on the way to the airport. Morzine and Avoriaz are already among the best family ski resorts for their short transfer times, but when you throw in more availability, quieter roads and less stress it makes it that much more appealing!
We'd love to see you this spring – if you feel a family holiday might be on the cards, get in touch to arrange your ski transfers from Geneva, or book online. We offer private, shared and economy shared transfers so there's something to suit every budget.