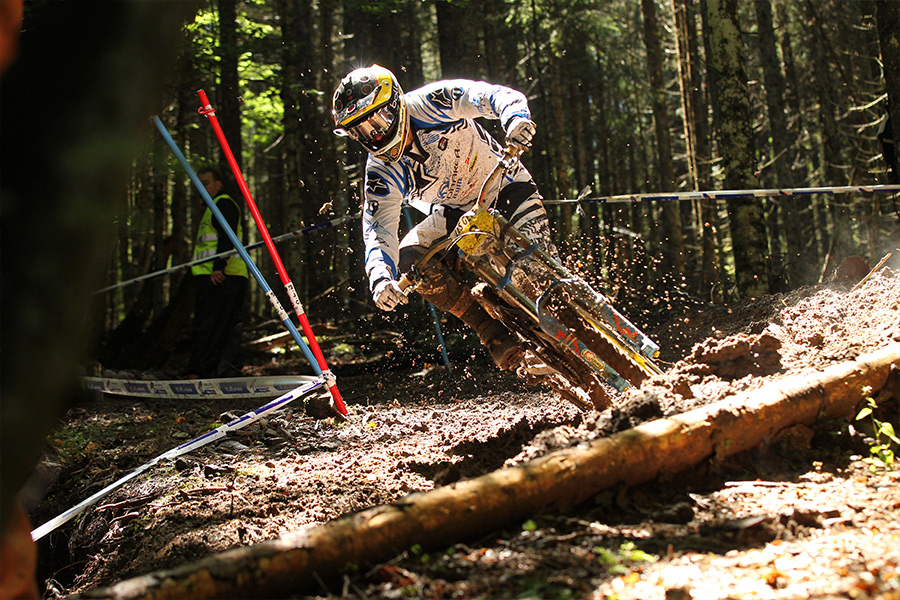 Image: Omar Pistamiglio / Les Gets Office de Tourisme
We had a great three years in Les Gets with legendary mountain biking festival, Crankworx, but this weekend Les Gets is taking back a piece of its mountain biking heritage and hosting the UCI

Mountain

Bike World Cup! The resort will hold both downhill and cross country mountain bike races in what's shaping up to be a massive World Cup season, and we're mega excited.
There's a lot going on in les Portes du Soleil this summer, from Pass'Portes to Harley Days to the Spartan Race, but the Mountain Bike World Cup will be the event of the year for Les Gets and bring in keen mountain bikers for miles around. The buzz has already started with walk-throughs, training sessions and lots of course tape, so what's so exciting about the Mountain Bike World Cup returning to Les Gets?
The last time Les Gets hosted a UCI event was when the resort held the Mountain Bike World Championships in 2004. All it takes is a quick google (or watch of the video below) to see how mountain biking has progressed since then, from the size of the bikes to the technology! We're really excited to see what the riders can do this time around after fourteen years of innovations.
After 2004 Les Gets didn't host another major mountain bike event until Crankworx came to town between 2016 and 2018. And as Crankworx changes resort every three years, Les Gets took the time after its departure to secure itself as a UCI MTB World Cup destination for the next four years.
That's right, it's not just 2019; Les Gets will be hosting the World Cup finals in 2020 and potentially 2021, and then hosting the World Championships in 2022. Here are the provisional dates:
19th – 20th September 2020: Downhill and Cross Country World Cup Finals.
Les Gets is a candidate to host the Downhill and Cross Country World Cup Finals in 2021
24th – 28th August 2022: Downhill and Cross Country World Championships
After the massive success of Crankworx, Les Gets is again proving itself as a great resort to host these kinds of huge mountain bike events; they can build the courses and they can put on a great show. Like Crankworx and the UCI mountain bike events before, this weekend's World Cup will bring the world's best racers to the resort, the riding and the atmosphere will be amazing.
The downhill race will take place over on Mont Chèry, on the same course that was used for the Crankworx downhill, which looks like it's going to be one  of the fastest world cup tracks ever, while the cross country races will be held over on the Chavannes side of the resort. The riders have already started training and it looks like both races are going to be mega exciting.
Here are our top tips to ensure you get maximum enjoyment from this weekend's race action:
Don't Drive
If you can get away with not driving this weekend, don't drive anywhere. It's going to be super busy on the roads what with Harley Days going on in Morzine at the same time, and you'll be hard pushed to find somewhere to park. If you want to watch the races, we'd recommend leaving your car at home and cycling to Les Gets for minimum stress.
Know Your Timings
Click HERE to find out the exact timings of everything that's going on over the weekend so you don't miss anything.
Find a Good Spot to Watch From
It's going to be a busy one, so if you want to get a good spot you're either going to have to get there early or be willing to trek a little way to find somewhere. And make sure you take lots of water / a few beers if you're further up the hill.
Get Cheap Passes
If you want to watch the downhill on Mont Chery but you don't have a lift pass, you can buy a pass for Friday and Saturday for just €10. You can even buy it in advance HERE.
And that's just about all you need to know about the Mountain Bike World Cup in Les Gets this weekend! We hope you enjoy the racing if you're in Les Gets this weekend. And if you're not but you feel like a bike holiday in Morzine, Avoriaz or Les Gets might be in order, give us a call, drop us an email or book your airport transfers from Geneva online. We can even take your bikes for free!